Our Puzzles
Just like other gift shop merchandise, Jigsaw Puzzles are usually an impulse buy for visitors looking to take home a reminder of their visit. Best-selling puzzles are usually ones that make a connection between the visitors and the location (museum, local attraction or notable landmark) that invokes an emotional connection. The visitor feels like they are getting a little bit of the museum or attraction to take away with them.
From your artwork, we will manufacture a range of custom printed Jigsaw Puzzles specifically for your location. Unique to your shop, these will not be available anywhere else.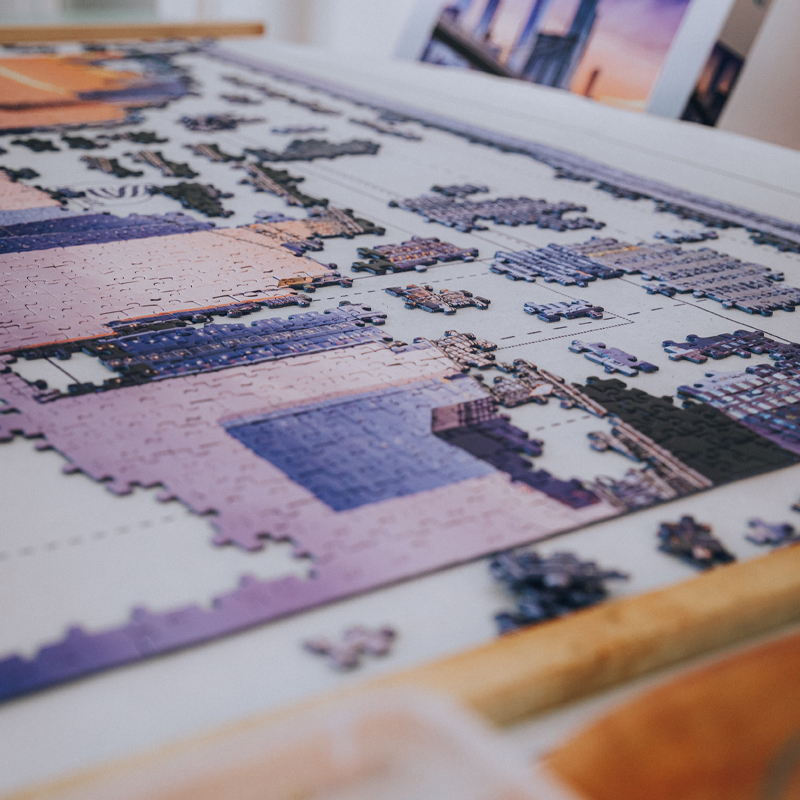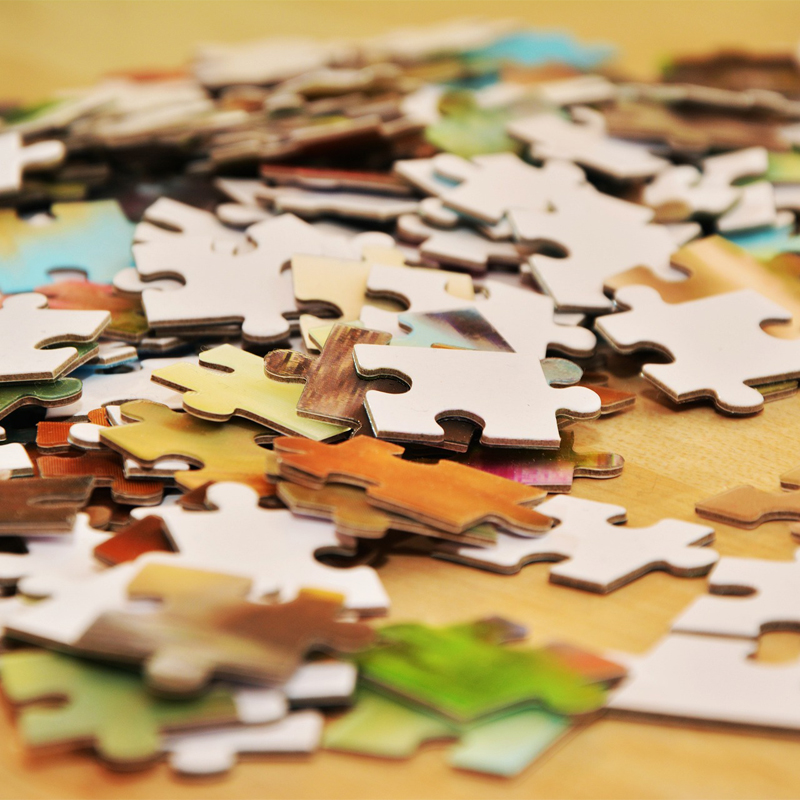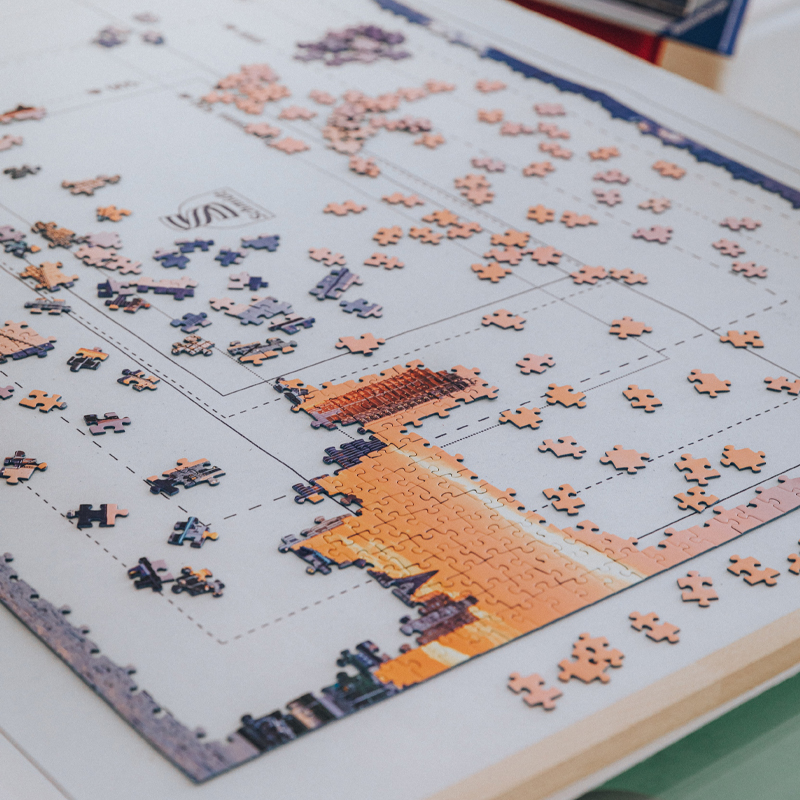 If you are planning on launching your own range of Puzzles, or to use a puzzle as a fundraiser or commemorative gift, then you have come to the right place. There are many reasons why a Jigsaw Puzzle is a great idea – here are a few of them.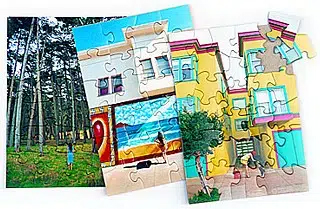 Take the traditional Postcard and make it into a Jigsaw Puzzle. What do you get? A fun, creative, unusual souvenir for your tourist gift store; or a unique corporate promotional mailer to get your message across.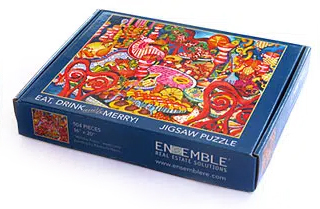 Using Jigsaw Puzzles in marketing campaigns to launch new products and services is a great way to catch people
'
s attention. A 24 piece postcard puzzle is quick to assemble but impossible to ignore if it arrives on your desk as a mail shot. Who can resist putting the simple puzzle together to disclose your message? Using your own product or advertising photo shots together with promotion text, offers many interesting and novel ways to get your message across.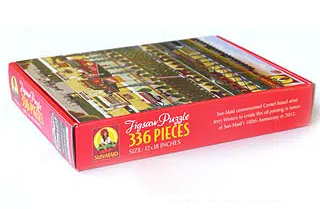 Finding unique gifts or products to offer your customers is not always easy, but our custom made Jigsaw Puzzles allow you to offer your customers something different and special. As a puzzle manufacturer, we can supply you with one or more retail products based upon photographs or artwork reflecting your own area. Sell photo puzzles based upon local landmarks, famous views, or interesting locations and offer your customers something they cannot find anywhere else.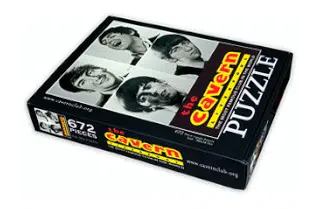 If you operate a business which attracts many visitors, you may wish to offer a puzzle in your gift shop reflecting your brand and products or service. Location puzzles are particularly suitable for venues such as clubs, hotels, beach resorts, amusement parks or golf courses. All we need is a photograph of your location or property to make a custom puzzle specifically for your business. Let visitors take away a visual memory of their visit.

CUSTOMIZE NOW

A simple, 6-step process to getting custom printed mailer boxes.
fter passing quality assurance, we'll ship your packaging to your specified location(s).

Add your artwork to the dieline template we'll create for you upon placing your order.
Once your artwork is approved, we'll start production, which typically takes 12-16 days.


Go to the platform and customize your mailer boxes to get a quote.
Get a sample of your mailer box to test size and quality before starting a bulk order.
Choose your preferred shipping method and place your order on our platform.
All packaging is printed with soy-based ink, which is eco-friendly and produces much brighter and vibrant colors.
A plastic coated layer that protects your designs from cracks and tears, but not eco-friendly.
For accurate brand colors to be printed and is more expensive than CMYK.
An eco-friendly water-based coating but doesn't protect as well as lamination.
CMYK is the most popular and cost effective color system used in print.
Top off your packaging with a finish option that completes your package.
Coating is added to your printed designs to protect it from scratches and scuffs.
We make it easy for you to test market a small range of puzzles in your store to find out which image sell. The successful ones can be reordered in larger quantities at lower costs. Our minimum order quantity is just 64 puzzles and within this, you can have a number of puzzle designs.
Smooth and non-reflective, overall softer look.
Shiny and reflective, more prone to fingerprints.
For smaller order quantities, we photographically reproduce your artwork to make a print similar to that produced by your local photo lab. This offers excellent picture quality and lasting color and gives a quality feel to the puzzle.
For large order volumes, we use a 4 color offset print technology to produce the puzzle image. This also produces a high-quality print but at a lower cost per print for larger print runs. Using high-quality specialized puzzle adhesive, the puzzle print is then sealed to a strong "Grade A" quality cardboard backing and then die cut to produce the puzzle pieces.
As with most printed items, puzzle cost will reduce with bigger orders. Our quantity / price breaks depend on the puzzle size you choose but are around 64, 112, 240, 512, 1000, 2500, and 5000 puzzles. We can however quote you for other order quantities. Just request a quote and we would be happy to work out a price for you.